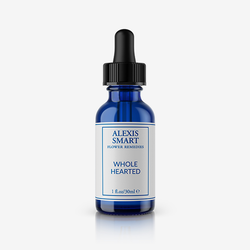 Whole Hearted - For Heartbreak
Wholehearted flower remedy is a solution for sadness and broken hearts. It helps you overcome these past hurts and make room for new love in your life. The remedy was created based on years of working with clients who shared certain traits in different parts of their lives. This specifically designed flower remedy alleviates sadness and heartbreak by providing consolation and assisting you in moving on. It treats current emotional wounds and loss or emotional trauma using the natural healing powers of the wildflowers of the English countryside.
Whole Hearted benefits
Helps heal heartbreak
Helps with letting go
Brings comfort
Soothes emotional wounds
A perfect remedy for dealing with grief
If you feel:
Grief (expressed or suppressed)

Loss of loved one
Break-up
Intense emotional suffering
Stuck in the past
Sad childhood
You never recovered from a loss however long ago
Alexis Smart flower remedies are an essential for us always. Alexis is incredibly passionate about homeopathy - she formulates all of her remedies from her studio in Joshua Tree, and sources all flowers from the UK. Each formula contains seven different flower essences, and they are designed to ease a range of emotional and mental blockages, such as anxiety, stress, heartbreak, among many others. When things get a bit crazy and our anxieties are sky high, Alexis Smart always helps bring us back to the ground.
HOW TO CHOOSE:
Pick the flower remedy that most relates to your feelings and emotional state overall, at the moment. If some of the symptoms listed do not pertain to you, the formula will still be effective in treating the symptoms you do have. An inappropriate remedy will not hurt or cause adverse reaction.
Take 4 drops, 4 times a day under the tongue.
1 bottle is a 1 month supply if taken as directed.
Alcohol-free.
 * Price increase due to Customs & VAT charges *