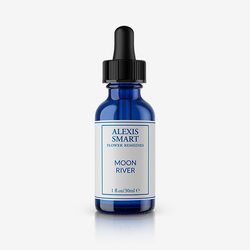 Moon River - For Women's Balance
We suggest Alexis Smart's Moon River if you have PMS, are pregnant, postpartum, menopausal, or take hormone therapy. Hormonal imbalances are common and may cause us to lose our sense of ourselves. This remedy may spark grace through times of transition, providing balance, beauty, and self-acceptance. Suppose you feel fatigued by the rollercoaster of your monthly cycle, suffering mood swings, melancholy, jealousy or tearfulness, hormonal breakouts, and despair. In that case, this is the flower essence for you. It will enhance your feeling of emotional calm and acceptance of your hormonal fluctuations.
Moon River benefits
Female balance (especially for PMS, pregnancy, postpartum, menopause, hormone meds)

Stable emotions
Beauty and self acceptance

Grace and calm during times of change

Control over mood swings

If you feel:
Hormonal issues interfere with your life

PMS, pregnancy, postpartum, menopause
Monthly emotional rollercoaster
Mood swings (depression, jealousy, tearfulness, etc)
Alexis Smart flower remedies are an essential for us always. Alexis is incredibly passionate about homeopathy - she formulates all of her remedies from her studio in Joshua Tree, and sources all flowers from the UK. Each formula contains seven different flower essences, and they are designed to ease a range of emotional and mental blockages, such as anxiety, stress, heartbreak, among many others. When things get a bit crazy and our anxieties are sky high, Alexis Smart always helps bring us back to the ground.
HOW TO CHOOSE:
Pick the flower remedy that most relates to your feelings and emotional state overall, at the moment. If some of the symptoms listed do not pertain to you, the formula will still be effective in treating the symptoms you do have. An inappropriate remedy will not hurt or cause adverse reaction.
Directions
Take 4 drops, 4 times a day under the tongue.
1 bottle is a 1 month supply if taken as directed. 
Alcohol-free.
 * Price increase due to Customs & VAT charges *