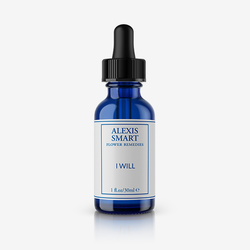 Alexis Smart Flower Remedies are safe, ingestible homeopathic remedies that may be used to treat a variety of mental and physical conditions. The compositions are based on floral treatments, which British physician Dr Edward Bach discovered and popularised in the 1930s.

I Will is an excellent solution for any circumstance in life when you lack the will to alter it, not simply for physical problems. It is often advised to use it after Whole Hearted.
Benefits:
Summons hope and calm
Rejuvenation when you're feeling depleted

Strong will

Keeps fear at bay
Brings energy when you're physically and spiritually exhausted

Renewed strength
If you feel:
Chronic illness (or hopeless situation)

Traumatised by diagnosis
Loss of will
Fear
Resigned
Hopeless
Physical/spiritual exhaustion
Alexis Smart flower remedies are an essential for us always. Alexis is incredibly passionate about homeopathy - she formulates all of her remedies from her studio in Joshua Tree, and sources all flowers from the UK. Each formula contains seven different flower essences, and they are designed to ease a range of emotional and mental blockages, such as anxiety, stress, heartbreak, among many others. When things get a bit crazy and our anxieties are sky high, Alexis Smart always helps bring us back to the ground.
HOW TO CHOOSE:
Pick the flower remedy that most relates to your feelings and emotional state overall, at the moment. If some of the symptoms listed do not pertain to you, the formula will still be effective in treating the symptoms you do have. An inappropriate remedy will not hurt or cause adverse reaction.
Directions
Take 4 drops, 4 times a day under the tongue.
1 bottle is a 1 month supply if taken as directed. 
Alcohol-free.
* Price increase due to Customs & VAT charges *