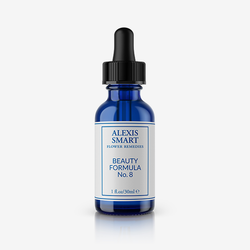 Beauty Formula No. 8 - For Anti-Aging
Alexis Smart developed Beauty Formula No. 8, focusing on the eight emotional reasons for ageing. This effective treatment also promotes a calmer, more at-ease attitude about your looks, allowing your genuine magnetic beauty to emerge. This lovely mixture is part of your everyday routine to bring out your inner radiance. It can also help relax facial muscles, soften bothersome expression lines, and promote a brighter complexion while cleansing and purifying.
Benefits:
Anti-aging
Relaxes tense facial muscles

Softens expression lines
Brightens a sallow complexion
Clear skin
If you feel:
Premature ageing

Unattractive / self-critical

Expression lines

Dull complexion

Under eye circles

Tired
Breakouts
Alexis Smart flower remedies are an essential for us always. Alexis is incredibly passionate about homeopathy - she formulates all of her remedies from her studio in Joshua Tree, and sources all flowers from the UK. Each formula contains seven different flower essences, and they are designed to ease a range of emotional and mental blockages, such as anxiety, stress, heartbreak, among many others. When things get a bit crazy and our anxieties are sky high, Alexis Smart always helps bring us back to the ground.
HOW TO CHOOSE:
Pick the flower remedy that most relates to your feelings and emotional state overall, at the moment. If some of the symptoms listed do not pertain to you, the formula will still be effective in treating the symptoms you do have. An inappropriate remedy will not hurt or cause adverse reaction.
Directions
4 drops, 4 times a day under the tongue.
1 bottle is a 1 month supply if taken as directed.
Alcohol-free.


* Price increase due to Customs & VAT charges *