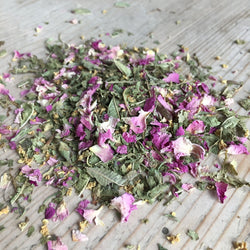 Hackney Herbal Tea
TLC Blend - Hackney Herbal Tea
Lemon verbena, rose & elderflower.
A sweet blend of restorative herbs that can help to ease tension, calm the mind and raise spirits.
Lemon verbena Aloysia citrodora 
Lemon verbena is a sweet and soothing herb that can help to calm the mind and reduce feelings of stress. It is a wonderful restorative herb that can be used at nighttime for insomnia. 
Damask Rose Rosa x damascena 
Rose is an effective herb for lifting spirits through its anti-depressant actions. A natural sedative, it is calming to body and mind and can be used to aid relaxation and sleep.
Elderflower Sambucus nigra
The Elder has long been regarded as an important medicine chest from which many remedies can be drawn. The sweet flowers are collected in May and are a useful remedy for coughs and colds due to their anti-inflammatory actions. 
Loose leaf herbal infusion packed by hand in Hackney using organically sourced dried herbs. Infuse in hot water for at least 5 minutes before enjoying. We recommend 1 teaspoon per cup. For a stronger infusion use two teaspoons.
30g pack // approx 15 servings
Comes in a starch lined pouch (plastic free)