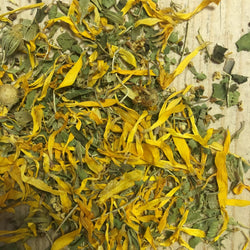 Hackney Herbal Tea
Pick Me Up Blend - Hackney Herbal Tea
Lemon verbena, marigold & elderflower.
A relaxing blend to ease stress and anxiety and uplift. Sweet and smooth. Elderflower is also good for colds. 
Loose leaf herbal infusion packed by hand in Hackney using organically sourced dried herbs. Infuse in hot water for 10-15 minutes before enjoying. Infusing for less time will give a lighter tasting tea. We recommend 1 heaped teaspoon per cup. For a stronger infusion use two teaspoons.
All our herbs are sourced from certified organic growers.
30g pack // approx 15 servings
Comes in a starch lined pouch (plastic free)