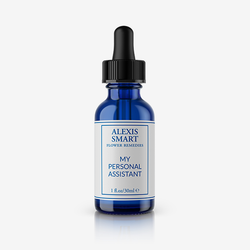 My Personal Assistant - For Energy
Face the day with confidence and energy. My Personal Assistant, a flower remedy by Alexis Smart, makes it easy to stop feeling overwhelmed and get more done. You can expect to breeze through your to-do lists. When we need help or someone to lean on, we turn to My Personal Assistant. This remedy raises our vibration so we can see the big picture. It also eliminates doubt, fear, and tiredness, giving us a new lease on life. With reliable and encouraging help, you can find your stride. When more have more support, the work gets done faster and easier.
My Personal Assistant benefits
Motivation
Fights fatigue and dread of work
A replacement for caffeine
Combats procrastination
Makes working fun - use for any daunting task
If you feel:
Dread of work

Procrastination
Fatigue/stagnation
Reliance on caffeine for energy
You can't cope
Alexis Smart flower remedies are an essential for us always. Alexis is incredibly passionate about homeopathy - she formulates all of her remedies from her studio in Joshua Tree, and sources all flowers from the UK. Each formula contains seven different flower essences, and they are designed to ease a range of emotional and mental blockages, such as anxiety, stress, heartbreak, among many others. When things get a bit crazy and our anxieties are sky high, Alexis Smart always helps bring us back to the ground.
HOW TO CHOOSE:
Pick the flower remedy that most relates to your feelings and emotional state overall, at the moment. If some of the symptoms listed do not pertain to you, the formula will still be effective in treating the symptoms you do have. An inappropriate remedy will not hurt or cause adverse reaction.
Directions
Take 4 drops, 4 times a day under the tongue.
1 bottle is a 1 month supply if taken as directed. 
Alcohol-free.
* Price increase due to Customs & VAT charges *