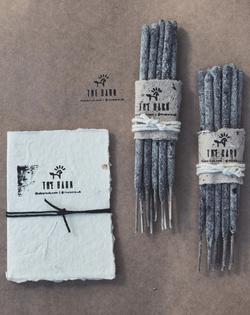 THE BARN
The Barn - HANDMADE MAYAN COPAL INCENSE
CALM. CLEANSE. HEAL. Copal, charcoal, reed, roots, stems, branches, flowers and leaves, thoughtfully created using Mexican traditional principles to light and heal. Wash away negative energies and invite healing, serenity and calm. Mayan Copal is one of the most iconic products from Mesoamerican culture that is still used today. "Copal" or "Pom", its Mayan name, has been burned over thousands of years in ceremonies including cleanses, smudging, Day of the Dead, healing rituals, for heartbreaks etc.
Our Mayan Copal incense sticks are handmade in Chiapas, Mexico using only the best reed, charcoal, and natural copal resin known as "Protium Copal". They're used in cleansing rituals, as the smoke is believed to help liberate negative energy with its very uplifting, clear, woodsy smell. Light with care, every day ❥
- 9 sticks. - Length: 6 inches.
- Duration: Each stick lasts over 1 hour
- Made in Chiapas, Mexico, by a Mayan Company, family owned, keeping alive their tradition