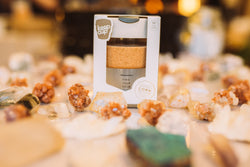 Keepcup
"Find Your Calm" KeepCup 12oz Brew Cork Travel Cup
Beautiful KeepCup with a cork band to keep your herbal teas, coffees and adaptogenic lattes zero-waste.  
Available with:
Light Grey Lid with White Plug

Light Grey Lid with Dark Grey Plug

Dark Grey Lid with Light Grey Plug

This is a glass version of the traditional Keep Cup. This 'barista standard' travel cup (meaning it will fit under most commercial coffee machines, including that of your favourite local cafe) is lightweight, splash-proof, and ideal for transporting your coffee and other warm drinks whilst on the go. Made in Portugal.
Size: Height 12.7 cm x width 8.9 cm
Capacity: 12oz
Material: fully tempered soda lime glass, natural cork band
Cleaning & Care

- To avoid cracks and breakage, please don't remove the cork band
- Hand wash cup with cork band on and air dry
- Lid, plug and tumbler are designed to be taken apart for thorough cleaning
- Lid and plug are dishwasher safe on the top shelf
- Lid off, can be heated to 100°C / 212°F
- Replacement parts available
- One-year warranty on defects and faults
Want more information about how to take care of your KeepCup? 
Read KeepCup Care.