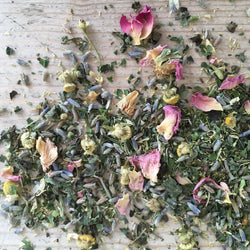 Hackney Herbal Tea
Relax & Let Go Blend - Hackney Herbal Tea
Lemon balm, rose, skullcap, lavender & chamomile.
A relaxing floral blend for relieving tension and aiding sleep.
This floral blend combines sedative herbs that help the body and mind to relax and prepare the body for a restful night of sleep. It can also be enjoyed during the day to help relieve stress and tension. Skullcap is a nervine herb that works to support the nervous system making it beneficial to those with anxiety, stress and exhaustion. Lavender is a relaxant and can help with both low mood and tension headaches.
Loose leaf herbal infusion packed by hand in Hackney using organically sourced dried herbs. Infuse in hot water for 10-15 minutes before enjoying. Infusing for less time will give a lighter tasting tea. We recommend 1 heaped teaspoon per cup. For a stronger infusion use two teaspoons.
All our herbs are sourced from certified organic growers.
30g pack // approx 15 servings
Comes in a starch lined pouch (plastic-free)