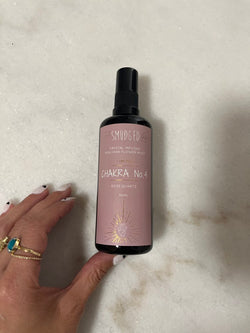 This is CHAKRA NO. 4 - the newest LIMITED Cleanse + Protect Spray
This new spray was created with rose quartz crystals to heal, open and balance your heart chakra. The last two years have been A LOT to handle. We are all beginning to recognize and heal from the collective trauma of this past time period. It's time to start fresh and invite the energy of unconditional love into your life - for others and especially for yourself.
Spray this magically-charged crystal-infused spray and any bad vibes will vanish with a quickness. Leaving behind only peace of mind and peace of heart. Uses:
Linens

Room Spray

Office Freshener

Energetic Pick-Me-Up
Peruvian Agua de Florida by Lanman & Kemp is known for its cleansing propensities. It has a fresh, crisp scent that does not linger for too long. It uplifts the energy in any room it is sprayed in and can even be used on the body because it's non-toxic! We add our own blend of unique essential oils and then charge this spray with reiki and ROSE QUARTZ crystals (which are actually left in your bottle), under an auspicious planetary timing. Uses: general room cleansing (think smudging, minus the smoke), freshening up bed linens and towels, removing dull energy, refreshing the senses, and more. The scent is light with citrus and clove notes. It comes in a beautiful reusable Miron Violet glass spray bottle. Enjoy!