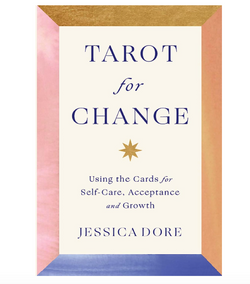 Re:Mind Studio
Tarot for Change by Jessica Dore
Unlock the transformative power of tarot with this unique investigation into the psychology of its secrets, symbols and stories.
Symbols have been used in modern psychology for generations, from the interpretation of fairy tales to inkblot tests. Although tarot is often thought of as a spiritual tool for divination and fortune-telling, it too contains a set of symbols that can help us better understand our selves and align with our values. In this book, Jessica Dore reveals years of secrets and insights about how to work with tarot to activate your potential.

You'll discover:

· The importance of choosing the right deck and how to find it
· how the mythic imagery of tarot supports evidence-based therapeutic concepts such as mindfulness, acceptance and compassion
· the skill of interpreting specific images and symbols
· how to build a meaningful relationship with the cards

Jessica's reflections on each of the 78 cards breathe new language into ancient wisdoms about what it means to be human. Whether you're new to tarot or have worked with the cards for years, this book will provide a path towards reclaiming your imagination and true sense of self.