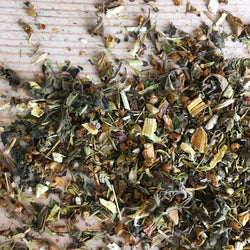 Hackney Herbal Tea
Immuni-tea Blend - Hackney Herbal Tea
Echinacea, holy basil, thyme & liquorice
A blend to help the body's natural defence system.
Echinacea is an immune stimulant and can be taken as a preventative remedy against colds and flu. Both thyme and liquorice are natural anti-viral herbs and can play a supportive role to the body's natural defences. Holy basil is an adaptogenic herb that can help the body respond better to stress. It can also be helpful for stress and anxiety. Liquorice can be supportive for fatigue, tiredness and burnout.
Use 1-2 teaspoons per cup of tea and leave to infuse in boiling water for 15 minutes
This blends gets sweeter, the longer you let it infuse!
All herbs are sourced from certified organic growers.
30g pack // approx 15 servings
Comes in a starch lined pouch. (plastic-free)