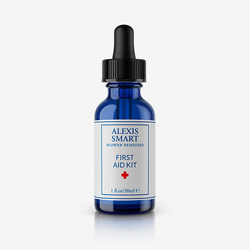 First Aid Kit - For Urgent Care
Alexis Smart saves the day! A few drops of this flower medicine will help you regain your composure and soothe your nerves in stressful and unpleasant situations. This effective remedy offers quick relief from emotional issues such as travel anxiety, public speaking, dental visits, and even traffic jams. The next time you need to regain composure, use this rescue treatment.
No matter which foundational flower remedy formula you choose, you should always keep a bottle of first aid kit nearby in case of emergencies. This quick-acting mixture eliminates shock and trauma while instantly bringing about calm. During a crisis, administer four drops every ten minutes (accidents, emotional stress, hospital visits, fear of flying, dental visits, public speaking, etc.). It may also be administered preventatively at the earliest symptoms of falling ill.
Benefits:
Fast-acting relief for high-stress circumstances (trauma, loss of loved one, emotional upsets, accidents, etc.)
Works instantly to neutralise trauma and restore calm

Minimises anxiety before daunting events
Emotional upsets and mental distress
Travel remedy - used for travel anxiety (jet-lag, overwhelm)

A strong sense of self
A must-have to carry with you on the go

Works for traumatised animals (add sixteen drops to small water bowl)
Alexis Smart flower remedies are an essential for us always. Alexis is incredibly passionate about homeopathy - she formulates all of her remedies from her studio in Joshua Tree, and sources all flowers from the UK. Each formula contains seven different flower essences, and they are designed to ease a range of emotional and mental blockages, such as anxiety, stress, heartbreak, among many others. When things get a bit crazy and our anxieties are sky high, Alexis Smart always helps bring us back to the ground.
HOW TO CHOOSE:
Pick the flower remedy that most relates to your feelings and emotional state overall, at the moment. If some of the symptoms listed do not pertain to you, the formula will still be effective in treating the symptoms you do have. An inappropriate remedy will not hurt or cause adverse reaction.
Directions
Take four drops every ten minutes during a crisis (accidents, emotional stress, hospital visits, fear of flying, dental visits, public speaking). It may also be used preventatively at the first sign of illness. This fast-acting formula neutralizes trauma and shock, restoring calm immediately. 
Alcohol-free.
* Price increase due to Customs & VAT charges *