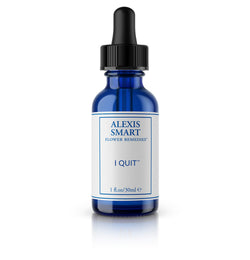 I Quit - For Breaking Habits
Alexis Smart's I Quit Remedy can help you eliminate cravings, bad habits and undesirable behaviours.

This potion will assist in breaking the behavioural patterns that no longer support your best self, quiet obsessive thoughts, and reduce impatience. It can create inner contentment and a longing for more healthy behaviours. It will also help to stop harmful habits like nail biting that do not serve your greater good.

I Quit benefits
Inner fulfilment
Diminished cravings
Breaks repetitive behaviour/thought patterns
Quiets obsessive thoughts
Calms irritability
Helps you let go of that which is not healthy
Craving healthy alternative
If you feel:
Compulsions

Smoking
Internet/scrolling and social media
Shopping
Overeating
Bad habits (nail biting)
Alexis Smart flower remedies are an essential for us always. Alexis is incredibly passionate about homeopathy - she formulates all of her remedies from her studio in Joshua Tree, and sources all flowers from the UK. Each formula contains seven different flower essences, and they are designed to ease a range of emotional and mental blockages, such as anxiety, stress, heartbreak, among many others. When things get a bit crazy and our anxieties are sky high, Alexis Smart always helps bring us back to the ground.
HOW TO CHOOSE:
Pick the flower remedy that most relates to your feelings and emotional state overall, at the moment. If some of the symptoms listed do not pertain to you, the formula will still be effective in treating the symptoms you do have. An inappropriate remedy will not hurt or cause adverse reaction.
Directions

Take 4 drops, 4 times a day under the tongue.
1 bottle is a 1 month supply if taken as directed. 
Alcohol-free.
* Price increase due to Customs & VAT charges *